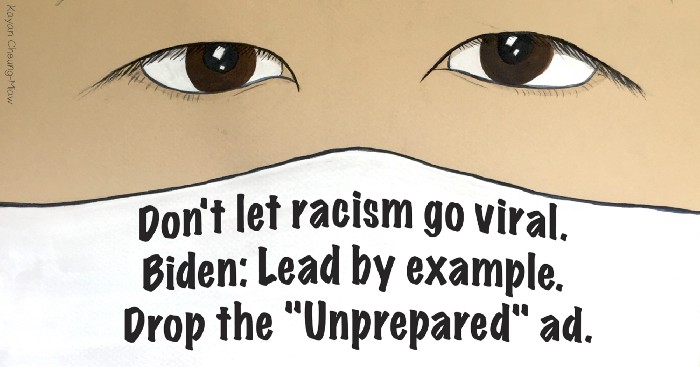 FOR IMMEDIATE RELEASE
May 12, 2020
Contact:
Grace Pai, Asian American Midwest Progressives
Email: gpai@aamprogressives.org   Phone: (310) 433-1107
Michelle Liang, NAKASEC Action Fund
Email: michelle@nakasecactionfund.org   Phone: (925) 286-7948
As GOP Stokes Anti-Asian Racism, Progressives and Community Leaders
Urge Biden Campaign to Drop "Unprepared" Ad and Shift Messaging Strategy
In an open letter published Tuesday, May 12th, 60 civic engagement organizations and over 200 community leaders, educators, writers, and artists urged the Biden campaign to withdraw the "Unprepared" ad that attacks President Trump for "roll[ing] over for the Chinese". The letter additionally urges the Biden campaign to challenge the GOP's messaging strategy that blames China for the COVID-19 crisis in the U.S. and stop using anti-China rhetoric.
Signatories of the open letter include S.B. Woo, former Lt. Governor of Delaware, Michigan State Senator Stephanie Chang, Durham Mayor Pro Tempore Jillian Johnson, Philadelphia City Councilmember Helen Gym, Pulitzer Prize winning author Viet Thanh Nguyen, Stanford University Professor Gordon H. Chang; national organizations including AAPIs For Civic Empowerment, Justice is Global, NAKASEC Action Fund, People's Action, and the Working Families Party; and state-based organizations including Asian American Midwest Progressives, Asian Pacific Islander Political Alliance (based in Pennsylvania), Citizen Action Wisconsin, Michigan Action, and Michigan Asian American Progressives.
"As Trump attempts to win re-election by deflecting blame and channeling anger over COVID-19 towards China, the "Unprepared" ad undermines Biden's sincere efforts to condemn anti-Asian racism and promote public health," said Grace Pai, Director of Movement Politics at Illinois-based Asian American Midwest Progressives, and one of the letter's authors.
"Because of Trump's rhetoric, we could very well have another incident like the murder of Vincent Chin, which took place right here in Michigan," said Michigan State Senator Stephanie Chang, referring to the 1982 murder of an Asian American at a time of heightened anti-Japan sentiment. Chang added, "There are dozens of more productive ways to contrast Biden's leadership and vision with Trump's COVID-19 related failures and ineptitude, rather than trying to outdo Trump on an anti-China message. Let's stick with those."
"We are very disturbed by the anti-China messaging in Biden's recent ad, "Unprepared," in which Biden is effectively criticizing Trump for not being anti-immigrant and pro-ban enough," said Michelle Liang of NAKASEC Action Fund, a progressive Korean and Asian-American national organization. "As Asian Americans, we look for leaders who clearly care about our community and are working to unite us as a country and an increasingly globalized world, not deepen divisions. As the fastest growing immigrant population and the fastest growing electorate in the country, Asian Americans and Pacific Islanders can be the deciding factor in close elections. We call on the Biden campaign to pull the ad and stop using anti-Asian messaging to further his electoral agenda." 
The open letter states that its signers share the goal of defeating Trump in the November election, but claims the Biden campaign's ad reinforces rather than challenges the right-wing narrative that blames the COVID-19 crisis on China. "The bottom line is, we want Biden to succeed," said Grace Pai, "but the campaign has to take the ad down and adopt a strategy that won't be hurtful to the Asian American community."
END