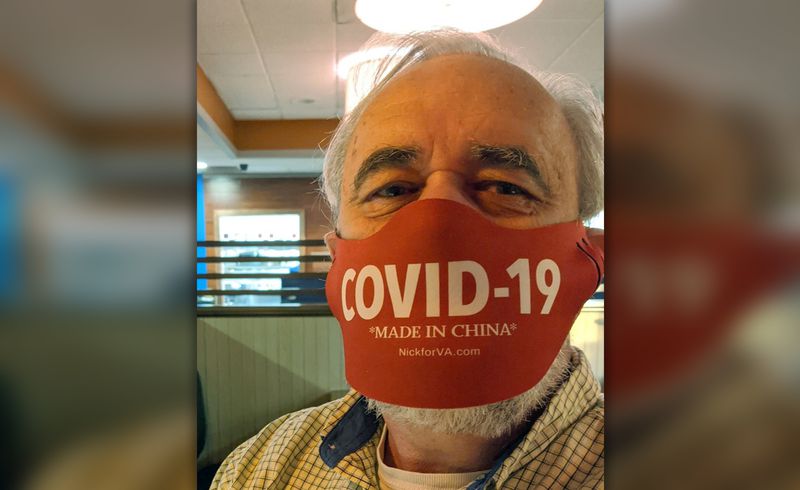 House candidate from Virginia sells 'COVID-19: Made in China' masks in campaign
Xenophobia: Made in America.
The Republican candidate for a House district in Virginia sold masks with "COVID-19: Made in China" written on them as part of his campaign, the Washington Post reported.
Nick Freitas, a current delegate in the state house who is running to represent Virginia 7th Congressional District, sold the masks as part of a three-pack, according to NBC News. Fellow state delegate Mark Cole showed off the mask in a Twitter post.
An Asian-American activist group, the National Korean American Service and Education Consortium Action Fund, called out the masks for stoking racism in an open letter.
"In Virginia, Chinese and other Asian Americans have been cursed and yelled at, barred from entering businesses, physically assaulted and faced workplace discrimination," the letter noted. "Outside of Virginia, people have spat on, thrown acid at and even stabbed."
Anti-Asian racism has increased nationwide since the coronavirus pandemic began, according to multiple research papers and hate crime data.
Two members of the Virginia house signed the open letter, as well as numerous community leaders.
Freitas' campaign defended the masks, the Post reported.
"China tried to hide information and lied about the virus and deserves to be called out because of their actions," Cole, the proud mask-wearing tweeter, told NBC News. "Because China lied, thousands of people from all over the world died!"
Virginia's 7th Congressional District was a longtime Republican stronghold until Abigail Spanberger, a Democrat, narrowly won the seat in 2018. Political insiders view the 2020 race as a tossup.