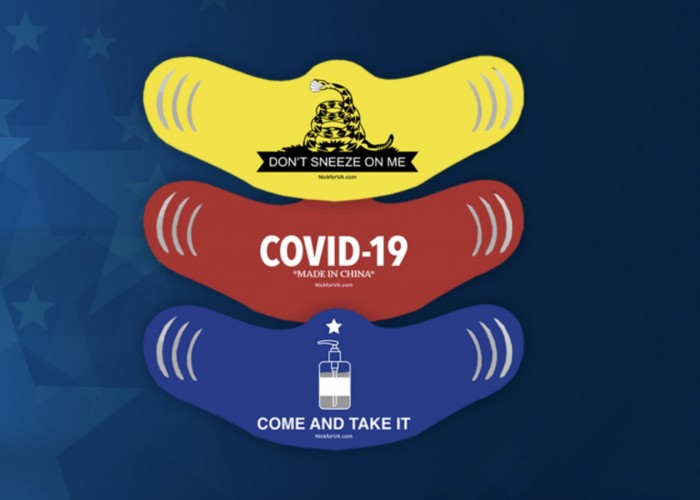 Freitas Faces Criticism for Anti-China Coronavirus Masks
A progressive group is calling for Republican Congressional hopeful Nick Freitas' campaign to stop selling masks that they say exacerbate discrimination against Asian Americans.
The masks say "COVID 19: Made in China" and list Freitas' campaign website. The Republican delegate is hoping to unseat Rep. Abigail Spanberger (D-7th) this November in a race that the Cook Political Report rates as a toss-up.
The National Korean American Service and Education (NAKASEC) Action Fund, a progressive advocacy group, said in a statement Tuesday that the masks' message "exacerbates anti-Asian racism and endangers our lives." The statement was co-signed by Del. Kathy Tran (D-Fairfax), Del. Sam Rasoul (D-Roanoke), and a handful of Asian American community leaders.
Sookyung Oh, NAKASEC Action Fund's Washington DC-area director, said in an interview that it was "refreshing to see Republicans wearing masks." But she connected anti-Chinese pandemic rhetoric to a rise in discriminatory acts against Asian Americans.
"It's pretty despicable that he's using dog-whistle politics to bank roll his campaign," she said.
Joe Desilits, Freitas' campaign manager, said in a statement that the move was a "blatantly partisan attack from liberal politicians, who conveniently ignore Abigail Spanberger's own record of fundraising off of the coronavirus pandemic."
Bettina Weiss, Spanberger's campaign manager, said Spanberger had "no comment on her opponent's choice to sell novelty merchandise trivializing a global pandemic."
The call to stop selling the masks comes amidst reports of pandemic-related aggression against Asian Americans, according to a report shared with VPM.
Asian Americans in Virginia have been cursed at, sprayed down with Axe body spray, headbutted, and doused with Lysol while dining out, according to reports compiled by the group Stop AAPI [Asian Americans and Pacific Islanders] Hate. The group tracked 26 incidents against Asian Americans in Virginia from March 19 to May 27.
NAKASEC Action Fund first noted the masks, which have been on sale since early May, because of a Tweet from Del. Mark Cole (R-Spotsylvania) showing the delegate wearing one.
Donors who contribute $20 to Freitas' campaign can receive the mask and two others. The campaign's online store warns that "staying safe is crucial, especially when China is spreading crazy lies about the coronavirus."
One of Freitas' other campaign masks featured a hand sanitizer bottle with the words "Come and take it." Another draws from the Gadsden flag that is popular with Tea Party activists, featuring the phrase "Don't sneeze on me" and a snake with a mouth-covering.
The campaign advertised the masks over emails and Facebook in May but no longer actively promotes them.
Facebook removed three of the ads in late May for violating a ban on advertising PPE in the early days of the pandemic, a stance they shifted from on June 10, according to a company email seen by VPM.